GS RAJAN founded - Malabarians - with his musician friends and presented his thematic orchestral compositions in 1995 in New Delhi. Since then his group has been performing in many leading cities of the world. The group has received appreciation from both press and people who are highly musical. Rajan calls his compositions - RAGA SYMPHONY - since all his works are based on Indian ragas though it has an international flavour.
For his thematic orchestral compositions, Rajan was hounoured by none other than the great maestro Zubin Mehta in Munich when Rajan presented his work. GS RAJAN also got the prestigious Akashwani Award from All India Radio for his compostion titled 'Oasis'.
In 2005, Rajan was awarded with a special fellowship by the Government of France as a composer. Thus Rajan lived in France for more than eight months and compsoed raaga-symphony with French musicians and presented these compositions at the Cite de la Musique.
Besides vocals, the group has Violins, Banjo, Mandolin, Bass Guitar, Mridangam, Tabla, Keyboards, Rhythm Machines etc.
"RAJAN is perhaps the only composer in India who has written systematic score for raga music and his group is the only one in the country which has succeeded in presenting thematic symphonic compositions without forsaking the Indian base."

Late Dr. Raghava R Menon Musicologist.
Remarks made on Stage at Kamani Auditorium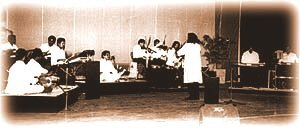 I want to evaluate and highlight the creative efforts of a young musician, namely, GS RAJAN, who has achieved significant success in orchestrating Indian music which has its emphasis more on melody and individual interpretations than harmony. It is in this context that I found that his orchestral presentation entitled REFLECTIONS at the Kamani Auditorium under the auspices of Art India, a landmark. . . . . . . . . This is not an easy matter since Indian music does not easily lend itself to orchestration as this technique demands inducting chords, counter-puntings, which are alien to it. RAJAN has made successful inroads in the field of Shrutibheda - transposition of scales so that other ragas, as different from the basic one taken for the first line, blossom into different ragas embedded in the scale by shifting the basic note. . . . . . . It was clear that RAJAN had done his home work thoroughly as in none of the pieces presented, was there a single loss of cue. I have no hesitation in saying that if RAJAN had been born in the West he would have been encouraged, nurtured and enabled to blossom into a great creative composer and conductor."
Subbudu (PV Subrahmanyam)
Seniormost Music Critic

"In the incomprehensible depths of the human mind, one doesn't need to know art or culture, to know music or dance to know that something good is in front of you. To know that that which is happening perhaps surpasses this or that school of thought, this or that school of music, this or that school of dance, but that it is something which produces resonance in the depths of the human mind. Would you believe it if I told you that each and every one of the pieces which have been rendered so far, I thought, Rajan had specially created for me. ...Rajan, thank you. ...Thank you for producing such an ensemble. What you have rendered us this evening will keep ringing in my ears for many, many days to come. ...May you produce much more so that you will touch the hearts of men and women throughout this country and throughout the world. Thank you."
TN SESHAN Chief Election Commissioner(retd.)